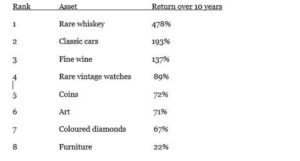 Covid-19 has had a remarkably small effect on alternative investment, and almost none on luxury goods.
These goods have a record of continually appreciating, and that didn't change during the pandemic crisis, according to the Knight Frank World Wealth report.
No luxury item, however, has done as well as rare whiskey, perhaps because it was used for consolation while we were all locked down?
As the chart shows, rare whisky purchased 10 years ago is now worth 478 per  cent more today. Try getting a return that good on the stock market.
"According to the Q1 2020 results of the Knight Frank Rare Whisky Index compiled by sector specialist Rare Whisky 101, since the beginning of the year, the index, which tracks the auction results of a basket of rare Scottish single malts, has risen by 3 per cent," the report notes. "Over the past 12 months it's up 11 per cent.
Classic cars are in second place with a 10-year return on investment of 198 per cent.
"Investors love classic cars, because every car has its own history, its own adventures, its own japes and probably plenty of scrapes. Tales to be told and shared with fellow enthusiasts. Few other asset classes, however valuable or beautiful, can match it," the report explains.
"A car is also nothing without its driver. Their fates are intertwined, adding an entirely different element to ownership that exists far less frequently with say a picture, a bottle of wine or a piece of furniture."
Fine wines are next in the ranking, with a 10-year return of 137 per cent. Wine markets experienced strong growth right through the pandemic, according to the report.
SuperTuscans led the market with 18 per cent growth in 2020, while first-growth Bordeaux, in the past always the market leader, managed only 5 per cent, while back vintages of champagnes and Burgundy were up 14 per cent and 11 per cent respectively.
Just to give you an idea, a bottle of Krug, vintage 1996, will set you back about €600. But, if you preserve it well, you can sell it for double that in about five years.
"Covid-19 had little effect on markets, but climate change is having a marked effect. Global warming is affecting classic wine regions, Burgundy markedly so given the sensitivity of Pinot Noir to excessive heat. One merchant talked of 2019 being a benchmark vintage for the 'New Burgundy' – in a warmer, richer mould. Perhaps now is the time to load up on the more affordable 2014 and 2016 classic vintages, the likes of which we may see only rarely in the future," the report suggests.
For collectors of rare, vintage watches – watches from 30 to 100 years old – returns have been very respectable as well, at 89 per cent for 10 years.
The Frederic Piguet Caliber 21, which, from 1925 through the 2000s, was the slimmest mechanical watch movement in existence, will cost you $5,000 today. But, in five years, you can expect to sell it for about $8,000, according to the report.
Rare coins, with a 10-year return of 72 per cent, are a particularly valuable market, worth about $17 billion in 2020, according to Mhojhos Research.
Improvements in the ability to assure rare coin provenance, along with the fact that, over the years, rare coins have appreciated steadily with almost no periods of decline, have made this kind of investing increasingly popular.
And what about the art market as a whole? Our report shows art investments returning 71 per cent over 10 years. Obviously, some artists are better value than others, from a commercial point of view.
"The art market, however, did not fare quite so well during the pandemic," the report says, "with the auction-tracking AMR All-Art Index dropping 11 per cent in 2020. But with so many factors impacting the market, there was no single reason for the fall in average values.
"For obvious reasons one of the biggest changes was a shift towards private sales at the major auction houses. The volume of all sales that were publicly auctioned at Sotheby's and Christie's last year was down 26 per cent and 46 per cent on 2019, respectively."
But, by the second half of the year, a new kind of auction sale had emerged, catering to this need with eclectic showcases mixing art, antiques and collectibles, the report says, and this helped to drive sales higher.
"Although the number of individual artist records halved last year compared with 2019, most of the winners were young artists, increasingly referred to as 'Red Chip'."
Tokyo-born Ayako Rokkaku, who paints candy-coloured figures and rainbow-like smears, and the young American neo-surrealist painter Emily Mae Smith, had sales that tripled or quadrupled their high estimates. Three works by Matthew Wong, who was barely known before his premature death in 2019, broke through the million-dollar mark, according to the report.
A less-well-known investment is coloured diamonds, but they do provide an impressive 67 per cent return over 10 years. Coloured diamonds are much more rare than clear or colourless stones.
The coloured diamond market was somewhat stymied by the pandemic, the report said. "The logistical lockdown simply made it impossible to conclude transactions in a timely manner. It took much longer for sellers to ship diamonds overseas, and for buyers to transfer funds and to ultimately receive custom-made items in a piece of jewellery."
Prices remained flat as a consequence, but this year could see a bounce. "It seems that HNWIs can't wait to compensate themselves for 2020, celebrate and buy the jewellery that they could not purchase during Covid," the report forecasts.
How do you choose among all these attractive investments? Professionals say to stick with items that you like for themselves, rather than for their potential to earn ROI. It's just much more interesting collecting artists that you like, or rare wines that you might also drink.