Whisky writer Becky Paskin is on a mission.
Having launched a social media campaign in 2018 to challenge "stereotypical perceptions" around who makes and drinks whisky, she has created a non-profit organisation called OurWhisky Foundation to "support and empower" women in the industry.
"For decades the spirit has been marketed almost exclusively towards men, resulting in a widely-held belief that women simply do not drink whisky and do not belong in its world," she explains.
"The truth is that women have long been involved in whisky's production and global success but are largely absent from marketing campaigns, the media and under-recognised in industry awards.
"Women are the hidden figures behind the world's most popular spirit."
She adds: "As a result, women in the industry often face unconscious bias, doubts about their level of knowledge and persistent questions of 'but do you actually like whisky?'.
"For many consumers, it's unfathomable that a woman would know anything about whisky, let alone enjoy it."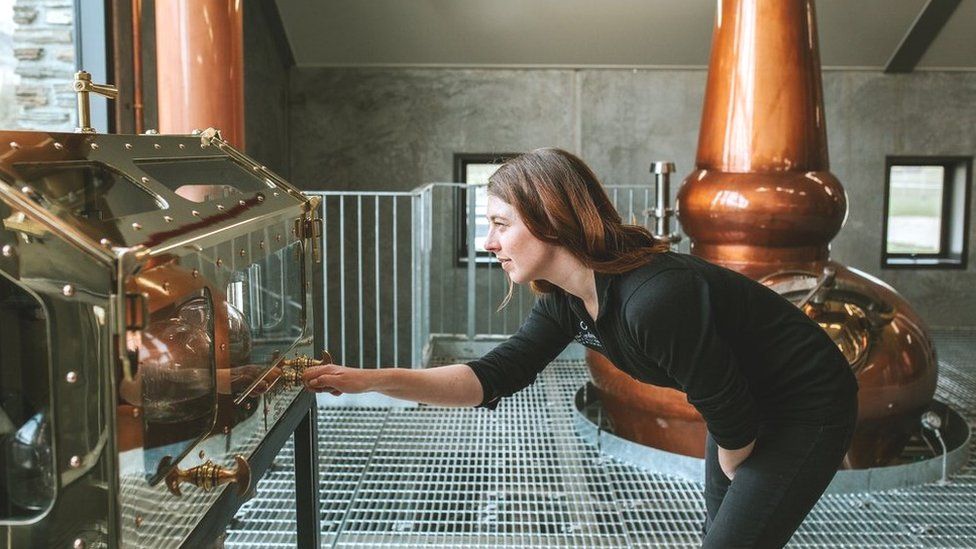 The OurWhisky Foundation's head of content, Millie Milliken, says the perception of the industry is "still behind the curve" when it comes to recognising the role of women in making, selling, marketing and other roles.
Arguably, her point is made by the fact that the industry's main lobby group, the Scotch Whisky Association, is unable to supply gender breakdown figures.
But she believes the industry is ready, willing and able to change, although it will take time.
"I'm so happy to see some incredible women coming into the industry in more junior roles and in time, these women will be working in some of the most covetable and respected roles in this industry," she says.
"I do, however, want to see more brands delivering on their gender equality goals, looking into maternity and caregiver policies and having concrete policies against harassment, sexism and discrimination in place for women in their workplaces.
"Those seemingly small steps are what will keep the amazing female talent in our industry moving forward."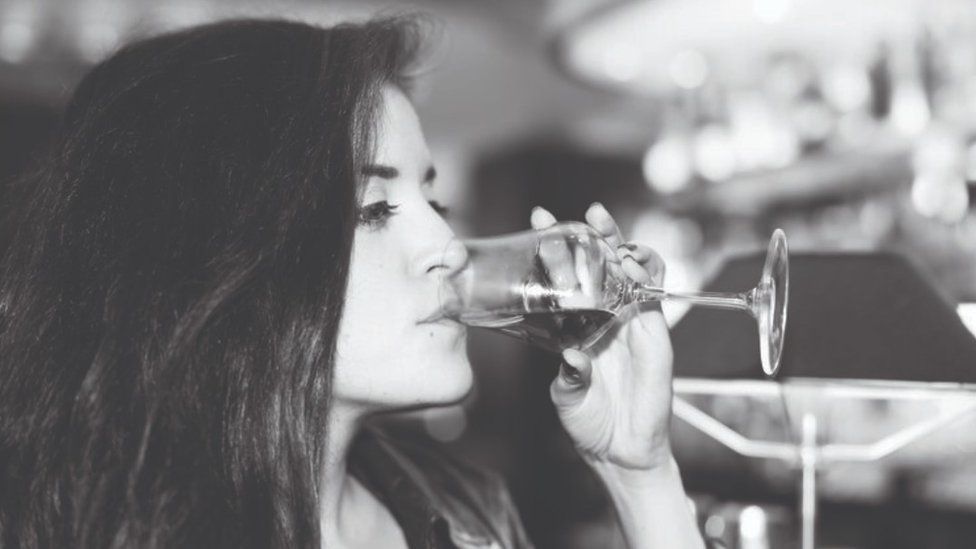 In an effort to tackle the issue, the foundation – which relies on funding from the industry – has set up educational workshops and a fund for qualifications, as well as awards recognising female achievements and diversity initiatives.
It has also launched a mentorship programme which aims to help 100 women work their way into – and up – the career ladder within the next year.
The global initiative is being backed by 50 heavy hitters in the sector – both men and women – including veteran master blender Rachel Barrie, who works for Brown-Forman's Benriach, Glenglassaugh and GlenDronach distilleries.
She says: "Reflecting on my 30 years in whisky, it is encouraging to see how many more women are now involved in the industry, but there is always more work to be done.
"Programmes like the OurWhisky Foundation mentorship programme are instrumental in giving women the chance to kickstart or develop their career in whisky, through connecting them with some of the most experienced people in the industry. "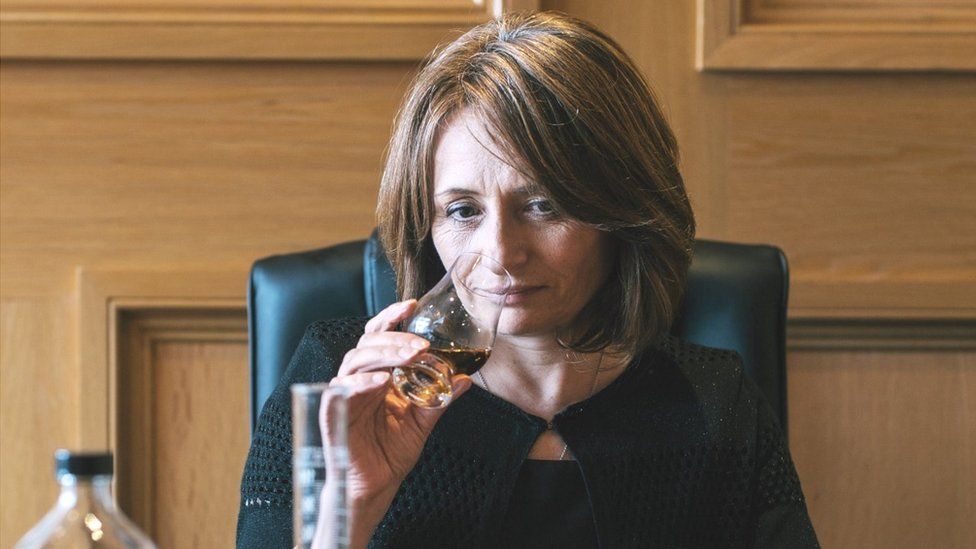 One early mentee, Kasey Killam, who is a bulk spirit administrator at Broxburn Bottlers, says she learnt a lot from working on the programme with Holyrood Distillers.
"I have worked in the whisky industry for a few years now, but mainly in retail, tourism and events," she says.
"I was really excited to have the opportunity to shadow the team at Holyrood and experience a full 'day in the life' of a distiller.
"Working with the team to prepare the malt, charge the stills, pitch the yeast, and finally 'draff out' was a great end-to-end view of the distilling process."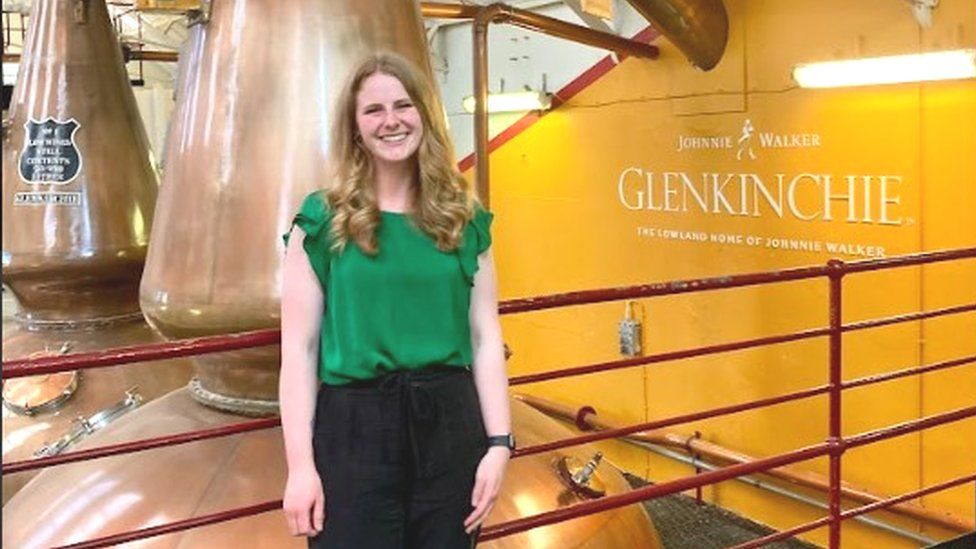 Marc Watson, head of spirit operations at the Edinburgh-based Holyrood Distillery, who mentored Kasey, says the spirits industry needs more diversity.
"The OurWhisky Foundation opens doors for support, learning and development opportunities that we should not only embrace but we should be excited by.
"The more people getting the opportunity to do what they love the better this industry will be."
Becky adds: "Whisky makers realise their future lies in the hands of the next generation of drinkers who are more likely to spend their money with inclusive, socially responsible brands.
"We're already seeing marketing campaigns reflect this with a variety of drinkers of all genders, ages, races and sexualities represented.
"There is still a long way to go to change perceptions about who makes and drinks whisky, but the industry as a whole is set on a course that will permanently change whisky's appeal as an enjoyable spirit and career for everyone."
Chivas Brothers, which owns The Glenlivet brand, is among a number of big players to acknowledge that the market is changing.
Earlier this year it launched a campaign called #BreakTheStereotype to "challenge the common perception of whisky", after research by its parent company, Pernod Ricard, found that as many as a third of whisky drinkers are women.
Marketing director for malts, Jayne Murphy, says: "The stereotype is reinforced culturally by mainstream media, and across marketing and advertising campaigns, so much so, that when searching for 'whisky drinker' on Google Images search service, you are presented with a disproportionate number of older, white men over any other gender or ethnicity, further propagating the stereotype.
"The whisky drinker has evolved."
The Scotch Whisky Association says it is working on the issue of gender within the sector.
Ruth Piggin, director of industry sustainability at the SWA, says the industry is "working hard to ensure that our workforce is balanced and inclusive" but adds that there is "certainly more to be done".
"Having launched a Diversity and Inclusivity Charter in 2020, the Scotch whisky industry is now updating our commitments to focus on what tangible measures it can implement to break down the barriers – whether those are social, economical or geographical – that may be holding back those who want to grow their careers in our sector," she adds.